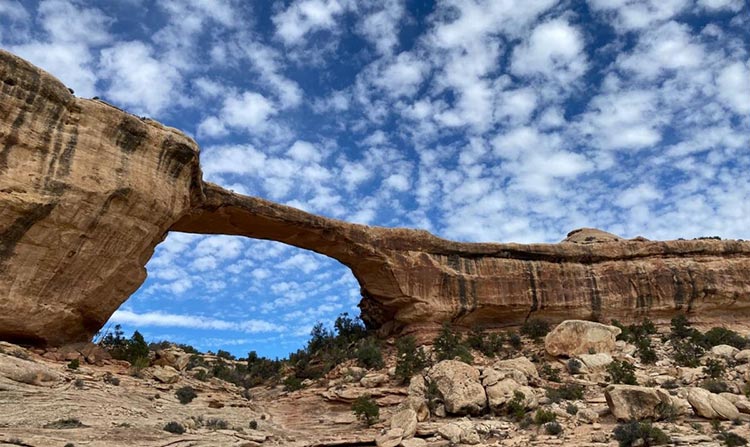 Ecological Interactions Between American Pikas and Mountain Goats on the Colorado Plateau
Discovery Pool Grant: Summary 2021-2022 Mallory Sandoval Lambert
The second season of fieldwork for my Ph.D. project was partially supported by the Discovery Pool grant from Canyonlands Natural History Association in partnership with the US Forest Service. I am conducting a multi-level, field-based study to document potential ecological interactions between mountain goats and American pikas: two mammalian herbivores that are specialists in alpine habitats. Understanding these interactions will have important implications for the conservation of each species. Such data will be particularly useful for both pika conservation and agencies tasked with managing the land that introduced mountain goat herds inhabit.
The Specific Aim of my research this summer was to:
Evaluate mountain goat use of pika-occupied talus habitat using GPS telemetry data from multiple subpopulations for habitat selection function analysis.
Compare forage utilization between goats and pikas. Test for evidence of competition or facilitation using a replicated three-plot semipermeable exclosure design. Additionally, test for ecosystem-level feedback loops in herbivore-plant interactions that might influence forage quality for both species around pika-inhabited talus slopes.
Assess risk-sensitive foraging by pikas by testing whether pika giving up distance varies with (a) mountain goat pellet density, (b) vegetation coverage of soil, and (c) mountain goat visitation based on GPS data.
Review the ecological interactions between pikas and mountain goats, and the management options for both, in the context of conserving the biodiversity of alpine habitats of the Colorado Plateau.
Read more about Mallory's progress
Thoughts From a Student Intern
Notes from Sarah Kelly McGinnis – Student Conservation Association (SCA) intern with the Bureau of Land Management Moab Field Office June to October 2022. Canyonlands Natural History Association provided financial assistance that paid for 1200 hours of labor from a Student Conservation Association (SCA) intern. The BLM provided housing, training and supervision. Each year CNHA provides over $300,000 in funding for SCAs, mostly with the National Park Service. Sarah is the first SCA CNHA has funded for the BLM.
Working with the BLM was an unforgettable experience! Not only was I able to interact with recreational users on a daily basis but I was able to form lifetime relationships. Routinely, I was able to connect with river patrons at the Westwater boat ramp and provide information to users. I had the opportunity to teach them about river etiquette and safety, the local history and leave-no-trace principles. I enjoyed representing the Bureau of Land Management and being a point of knowledge for visitors. While conducting river patrols, I was able to hone my rowing skills and gain confidence as a boater on the oars. I also took part in upland patrols and campsite surveys within Westwater Canyon. This was important for pinpointing areas of concern and planning future projects within the Wilderness Study Area.
Most of my patrols took place in Westwater Canyon but I was also given the opportunity to take part in a couple Labyrinth Canyon patrols on the Green River as well as a trip through Desolation Canyon on the Green River. Being able to explore multiple river corridors really encouraged me to pursue resource/recreation management as a career. The Moab Field Office was immensely supportive and provided me with multiple trainings and certifications. I took part in several excellent trainings: swift water rescue Swiftwater Safety Institute, Recreational Off Highway Vehicle for UTVs and four-wheel drive with Barlow Adventures. Each training equipped me with the tools and knowledge to be successful in the field. I look forward to more work with public lands.
New Science Helps Predict Smoke Movement, Quantifies Impacts to Health
WASHINGTON, DC—A new Forest Service book, Wildland Fire Smoke in the United States: A Scientific Assessment, combines research on wildland fire smoke and highlights knowledge gaps for future research. The book provides a foundation for improving how wildland fire smoke can be managed in the coming decades and was used in the development of the agency's National Prescribed Fire Program Review.
"This book provides a foundation for understanding the production of smoke, primarily from wildland fires," said Toral Patel-Weynand, southern research station director and former national director of sustainable forest management research. "This knowledge is increasingly important as a warmer climate is contributing to more fires and more smoke exposure."
The book's key findings include:
Tools to help predict smoke concentrations for wildland fires and enhance our ability to predict the direction of smoke plumes and the areas expected to experience elevated smoke concentrations.
Fuels estimates make it easier to plan effectively managed burns and mitigate smoke from wildland fires.
Lab and fieldwork on the composition of smoke have identified more than 500 different gases and improved our understanding of smoke chemistry and advancing future research.
Emission inventories from wildland fires improve the smoke forecasting systems used by public health officials, air quality forecasters, and fire management teams.
Economic losses associated with the health impacts of wildfire smoke are estimated as ranging from $88 billion to $142 billion per year.
The book also explores the social implications of wildland fire smoke, including public health and economic impacts. It features a survey of current management and regulatory issues related to smoke management, as well as anticipating issues that may arise with intensifying wildfire seasons or future prescribed fire programs.
The book's authors recommend that further research be conducted to improve our understanding of the effects of different prescribed burn techniques on smoke chemistry.
Additional research could also inform how fuel burning can affect smoke emissions and associated health impacts, the economic impacts of smoke, the effectiveness of protective actions in reducing smoke exposure, and potential differences in exposure and health impacts for prescribed fire smoke versus wildfire smoke.
Discovery Pool Lecture at the MIC
Last month, Don Irwin and Allison Aakre presented a talk on their work in Chippean and Allen Canyons. Don and Allison were recipients of Canyonlands Natural History Association's (CNHA) Discovery Pool Grant for their project entitled "Investigations in Basketmaker III-Pueblo I Community Patterns, the Foundations of Ancestral Puebloan Community in Allen and Chippean Canyons." The talk was a part of the Moab Information Center (MIC) Lecture Series presented by CNHA.
The goal of this project is to investigate the foundations of the Ancestral Puebloan community in Allen and Chippean Canyons on the Monticello Ranger District. Since the early 1970s, the Manti-La Sal National Forest has recognized that large concentrations of ancestral Puebloan sites are present on the Monticello Ranger District, including Allen and Chippean Canyons. Most of these sites have not been visited in the last 40 years and have scant documentation that needs to be updated to modern standards. Until recently, no formal attempts had been made to investigate or synthesize the volumes of survey data collected during the early 1970s. Consequently, this important suite of information has not been integrated into the growing body of regional information.
Archaeological surveys conducted on the Monticello District in the 1970s identified numerous sites dating to Basketmaker III (A.D. 400-600) and Pueblo I period (A.D. 700-900) in the Allen and Chippean Canyon area that may provide significant information toward our understanding of the origins and development of Ancestral Puebloan community of the Forest.
The first phase of fieldwork was completed with two groups of volunteers (Wilderness Volunteers and Southern Utah Wilderness Alliance) focusing on re-documenting identified Basketmaker III sites. The second phase of fieldwork will incorporate specialists from outside the agency for tree-ring sampling, photogrammetry, and time-period expertise.
November Hours for area Visitor Centers
Arches National Park 8:00-4:00
Island in the Sky, Canyonlands NP 8:00-4:00
The Needles, Canyonlands National Park 8:00-4:00
Natural Bridges NM (Thursday – Monday) 9:00-4:00
Hovenweep NM (Thursday – Monday) 9:00-4:00
Moab Information Center 9:00-4:00
Blanding Info Center (Monday – Saturday) 10:00-4:00
Kane Gulch Ranger Station (Closed until March 1)
---
This is an excerpt from the Canyonlands Natural History Association's Member Newsletter. To find out more about CNHA and how to get your own copy delivered, visit the Canyonlands Natural History Association website.