Social Trails Update – December
By Ben Landolt
Happy December to all! As the spirit of the holidays permeates the (increasingly chilly) air around us and World Cup fever reaches its zenith (for those who celebrate such things), I thought I'd take another opportunity to give a little status update on the monument's social trails inventory project.
In the time following my last update in September's newsletter, I was able to finalize data collection and wrap up the field mapping chapter of my time here at the monument, ending with a count of over 400 informal trails which collectively extend for 62 miles (for reference, the park's formal trail system has a cumulative length of just over 44 miles). This comprehensive inventory will prove to be highly useful to park leadership as they assess the scope of this issue and work to implement solutions which benefit our important resources and park visitors alike.
In my remaining time at the monument (3 months & change), I'll be working diligently with GIS software to produce maps analyzing our social trails' spatial variability and distribution patterns (see Devils Kitchen example above) while summarizing my findings for publication in the NPS Natural Resource Report Series and preparing my data for further use by staff here at COLM. Stay tuned for one more update in the spring!
Ben Landolt is Colorado National Monument's year-long social trail intern. This is a Scientist in Park internship made possible by a 12-week financial award from the NPS Scientists in Parks program and the generous support of Colorado National Monument Association to fund the remaining 40 weeks of Ben's internship.
Over in the Monument…
By Cassandra Fenton, PhD (Assistant Professor of Geosciences, Colorado Mesa University)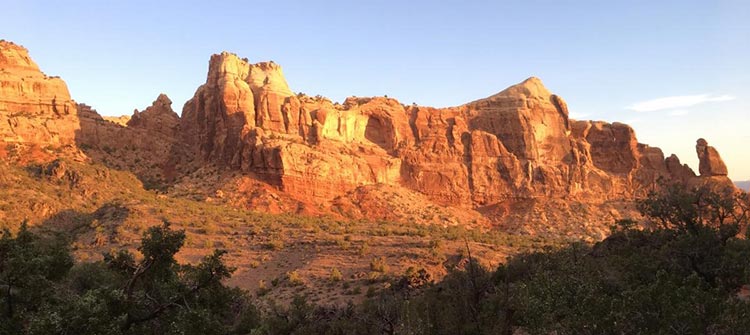 I'm standing at the front of a 100-person, stadium-style lecture theater, and I'm trying to explain red rock country. "You know, red rocks, like the ones you climb or bike on in Moab, or even better, those we see just over in there, in the monument." I wave my arm and point to the 'over there' behind the south-facing windows.
I'm a geosciences professor at Colorado Mesa University (CMU) here in Grand Junction. I do a lot of arm waving (insert audible laugh). It's almost a requirement, a genetic predisposition, even. I teach first-year students about Big Geo Country – mountains, mesas, plateaus – all of which we have in spectacular abundance on the Western Slope.
"Oh, I'm getting my arm workout today!" I say, laughing, as I describe with my arms and hands, the eruption and movement of ancient, red-hot, Hawaiian-like lava flows that are now frozen in time on top of Grand Mesa.
"And here? Here's my modern-dance interpretation of a giant, Saharan-like sand dune forming sand cascades and cross-bedding on its slip face and migrating laterally across a grand sand sea," I say, laughing again, as I lecture about the Jurassic sand dunes that are now locked up in my favorite of all rock formations – the Wingate Sandstone. "There are amazing exposures of the Wingate, over in the monument."
"The monument shows off some serious, world-class geology! People travel from all over the world to experience what we have here, every day, in our own backyard!" The instructors in our Geosciences Program often joke about how the monument is basically another one of our official lab spaces. We start each semester teaching first-year students, geosciences majors and non-majors alike, about the minerals organized in tiny boxes in wooden trays in our labs on campus, and as soon as we can, a few weeks into the semester, we transport the students in space and time to the monument, to see rocks and minerals 'in their natural habitat.'
"Today, over in the monument, we're going to measure the wind direction of Jurassic winds. We're going to find cross-beds in the Wingate Formation. We're going to stand on the tops of the cross beds and imagine we're standing at the crest of a giant, active dune. We're going to imagine we see nothing but sand, as far as the eye can see." Reader, you're already imagining me arm-waving, aren't you (insert a gleeful audible laugh)? "Now, imagine at the top of that dune, we feel the winds on our back, we see the wind swirling and moving fine sands around our feet, across the dune surface, and down the slip face. The slip faces are now locked in place in the Wingate Formation. So, now we can measure the wind direction and compare Jurassic wind patterns and desert climate with today's wind patterns and climate here in western Colorado."
I arm-wave to gather our students to the loading area for our vans. I point out to the other driver where we'll meet, at the trailhead in the monument. As we drive off, over to the monument, I think to myself once again, how I have the best job in the world. In fifteen minutes, we'll be studying outside, under pleasant blue skies, surrounded by red-rock cliffs, with our boots on the Wingate Formation, and I'll see all the light bulbs going off above our students' heads, as they imagine and understand our Jurassic World. Right in our backyard.
Over in the monument…
Interested in learning more about CMU's Geosciences Program? Use the QR Code below for more information.
CMU Students Collaborate with National Park Service on Colorado National Monument Film for Visitor Center Theater
Titled "The Heart of Time," the film illustrates the geologic events that shaped the beautiful rock monoliths and canyons and commemorates the people, plants, and wildlife that have inhabited it. Read the full article.
---
This news was edited from Colorado National Monument Association's newsletter. For the full version and to be put on their mailing list, email Johanna van Waveren.